UMH Rings NYSE Opening Bell to Commemorate Groundbreaking MHC Loan
From the Manufactured Housing Institute:
UMH Properties President and CEO Sam Landy rang the New York Stock Exchange's opening bell this morning to celebrate a new Fannie Mae loan product for manufactured housing communities. Representatives from UMH Properties, Wells Fargo and Fannie Mae participated in the ceremony alongside Landy in commemoration of the first-of-its-kind loan.
The loan, which was arranged by Wells Fargo, facilitates UMH's acquisition of communities with vacancies that might normally create problems for underwriting community loans. This new loan's flexibility will allow UMH Properties to upgrade communities and offer more options for residents. The agreement allows for a mix of UMH-owned rental units and land leases for residents who site their own homes. This more flexible loan allows UMH Properties to make acquisitions, reduce vacancies and maintain a mix of land lease sites and home rentals tailored to local market conditions.
"Our recent credit facility with Fannie Mae and Wells Fargo underscores our collective effort in providing quality affordable housing through manufactured home communities," said Landy. "We are honored to commemorate this commitment with Fannie Mae and Wells Fargo Bank by ringing the Opening Bell at the New York Stock Exchange."
Fannie Mae has a statutory "Duty to Serve" manufactured housing, including a specific responsibility to develop innovative loan products. The combination of a low interest rate and flexibility under this new Fannie Mae loan is a critical innovation that will allow UMH Properties to offer manufactured home units at affordable rents and finance new home purchases for buyers in their communities. MHI has been consistently and actively engaged with the Federal Housing Finance Agency, Fannie Mae and Freddie Mac (the GSEs), and will be participating in upcoming virtual listening sessions, to continue to ensure the GSEs meet their statutory requirement to support manufactured housing.
UMH Properties is a public equity real estate investment trust founded in 1968 that owns and operates a portfolio of around 23,200 homesites in 123 manufactured home communities nationwide. UMH has received a number of honors from MHI, including Retail Sales Center of the Year Award, 2019 Interior Design Award and 2018 Operator of the Year Award. Last year, for the fourth consecutive time, UMH received MHI's Land-Lease Community of the Year Award. These awards recognize UMH Properties' long-term commitment to innovation and advancement of the manufactured housing industry, and dedication to providing quality, affordable housing.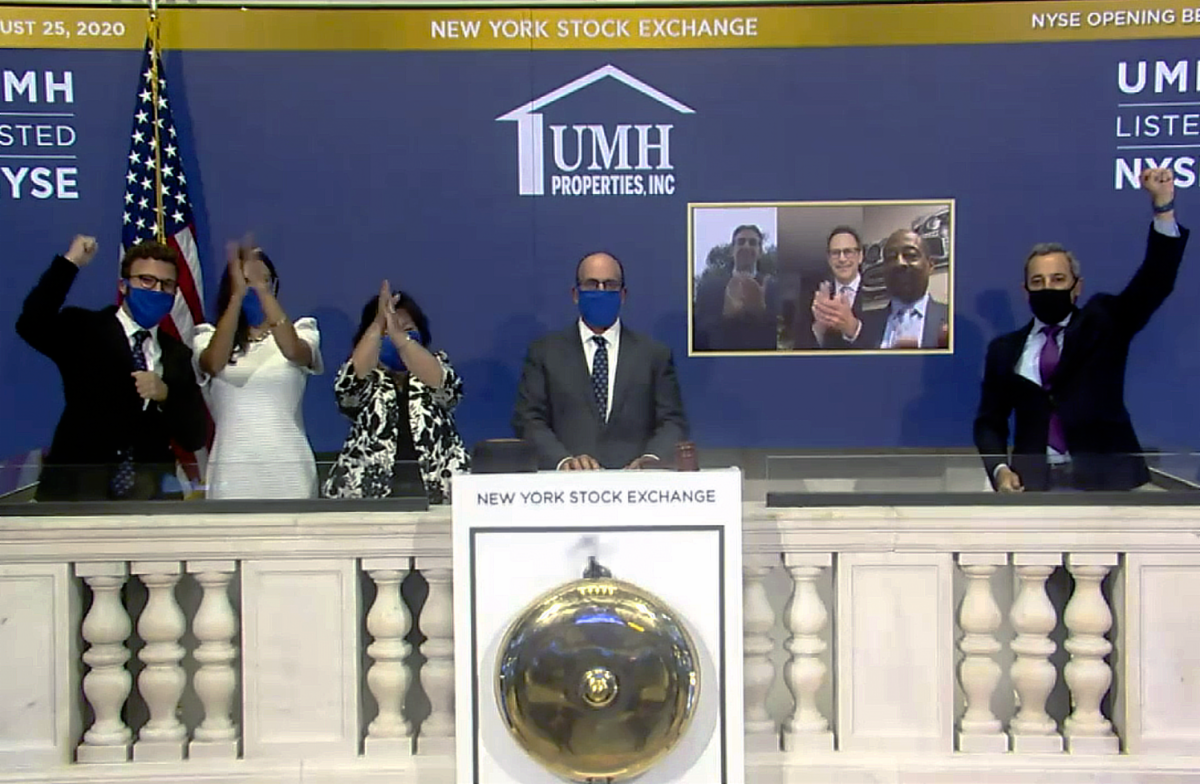 From left: UMH Properties Vice President Daniel Landy, UMH Properties Director of Investor Relations Nelli Madden, UMH Properties CFAO and Treasurer Anna T. Chew, UMH Properties President and CEO Samuel A. Landy. Pictured remotely: Wells Fargo Multi-Family Capital Managing Director Nick Bertino, Wells Fargo Managing Director Anthony Petosa and Fannie Mae CAO Jeff Hayward.